Friday August 6 at 3 pm the Royal Danish Court announced the pregnancy of crown-princess Mary. In my latest report I show how the news led the Danish Internet-landscape to change shapes as the dunes of visitors drifted in new patterns.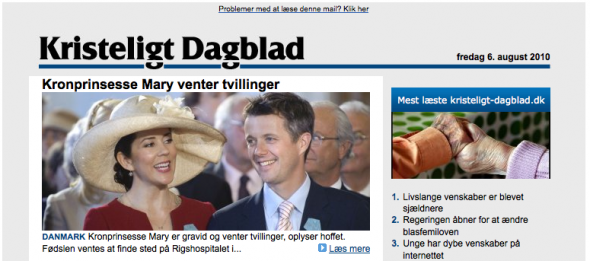 Newsletter send out at 15.46 on friday August 6 by number four fastest growing site, kristeligt-dagblad.dk.
The Internet is, this is a well-known fact, eminent for the distribution of breaking news. Whenever news breaks, users flock to the Internet to learn more. But what sites gain and who loses out? And what are the dimensions of this fluctuation of user interest? These are the questions I shed light on in my survey of changes in online traffic on the Danish Internet in the period from 3 pm till midnight on August 6, 2010.
As for the magnitude, the sites of the two leading gossip-magazines – "Se og Hør" and "Billedbladet" – both increased traffic by more than 50 percent – while no other sites grew more than 20.
However not only traditional gossip-sites took advantage of the royal breaking news. Number three on the list of most growing websites, tv2.dk, is the allround portal of one of the two dominant Danish TV-stations (while the traffic on the other, DR, actually decreased). And number four on the list is the website of the Christian newspaper Kristeligt Dagblad, traditionally thought of as a non-gossip serious media outlet (helped by pushing out an extra newsletter to its subscriberbase of what turns out to be a relatively royal-savvy audience).
Download full report (in Danish)

Send, download and print. Price: 345 ddk/€45,50 (ex. VAT)

"Kongelige Breaking News flytter online-trafik" 12 pages.

To order the report, send an email to jon@jon-lund.com including your contact information with subject: "Buy royal twins-report", and you'll receive both the report as pdf-file and an invoice.