Will the internet – that is: the use of it – keep growing forever? That's the question I pose – and answer – in my latest report: "The maturation of the Internet: levels of activity".
Up until now it has seemed so. Evermore users were drawn online, spending ever more time, reading through ever more pages. But now, it seems, it has stopped. At least in Denmark. Activity is stagnating.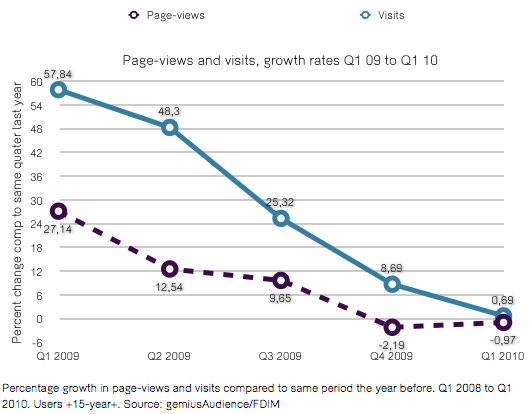 The stagnation applies for visits and page-views. And for time. The number of users still grow – but at ever-lower rates.
The report also shows how the (decrease) in growth rates differ between the young and the elder ones.
The report dwells on the burning question of the media-market: will advertising prices continue to drop, arguing that the limitation in the growth in the supply of ad-spots, which automatically follows a stagnation in the number of page views, will stop prices from following further. All other things being equal, that is.
Following the question of the supply of ad-spots, the report also take a brief look at the long tail. And finds that it might be long, but not fat. Most pages are viewed at sites visited by more than ninety thousand adult Danes. And the proportion is growing.
Download full report

Send, download and print. Price: 345 ddk/€45,50 (ex. VAT)

"The maturing of the internet: levels of activity" 13 pages, 6 illustrations.

To order the report, send an email to jon@jon-lund.com including your contact information with subject: "Buy Jon Lunds maturing-report", and you'll receive both the report as pdf-file and an invoice.