When travelling abroad I've often met the notion of the three big ones: Google, Yahoo and Microsoft. Or least I used to it. From a Danish perspective, I've allways been puzzled by the Yahoo-part of the equation, though. Case is, that Yahoo has never really been big (or present at all) in the Danish web-sphere. I've also had a some troubles understanding Microsoft, being divided out on a portal-site (msn), a search engine (bing), an email-service (hotmail) and instant messaging (messenger).
I therefore decided to map out the top of the Danish Internet in this weeks report "The three kings of Danish Internet: Google, Facebook and Microsoft" (link below). And I did find both Google and Microsoft on top. And Facebook. Yahoo, however, was no where visible in the upper layers.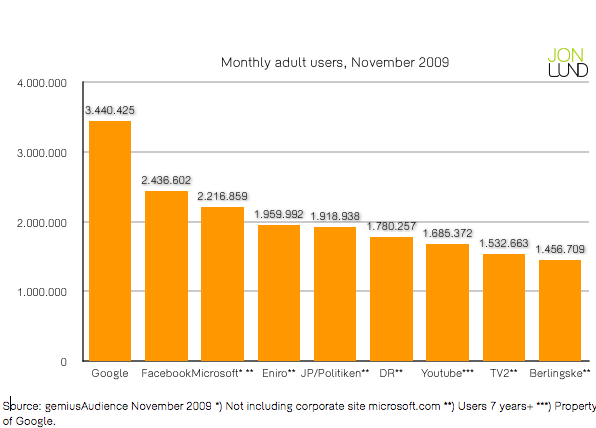 Interesting Google, Microsoft and Facebook each come out number one, depending on what metric you look at. Google tops the chart of sites visited by  most Danes. They have a second-to-none reach. Microsoft is the most frequently used site. Whereas Facebook takes the lions share of hours spend.
However it's not really surprising. Google is tool. Highly effective – without wasting your time – it's guiding you on, when you're not really sure where to go. Microsoft has charms. Checking out your hotmail (as any other mail) is like a magnet, constantly drawing users back to the site. As are messaging and news. Facebook is the social beast, dragging you into the interpersonal (or -group) dynamics of pictures, status-updates and what have you, eating your time.
Together they form the backbone of the 2010 Danish Internet. And anyone who wants to play the Internet game should be aware of this. Putting it a bit on the edge, you need to ensure that you can found on Google, related to on Facebook and connected to through Microsoft. Because that's what your users do.
Send, download and print. Price: 345 ddk/€45,50 (ex. VAT)

"The three kings of Danish Internet: Google, Facebook and Microsoft" is in 15 pages and includes 4 graphs and 3 illustrations.

To order the report, send an email to jon@jon-lund.com including your contact information with subject: "Buy Jon Lunds The three kings of Danish Internet report", and you'll receice both report as pdf-file and an invoice.