Arla.dk is the largest Danish corporate website. And it attracts a near-ideal group of users. Female, 25-45 and – in charge of the everyday shopping.
These are the remarkable facts I've dug up in my latest report: ""Service-driven corporate sites- the case of arla.dk".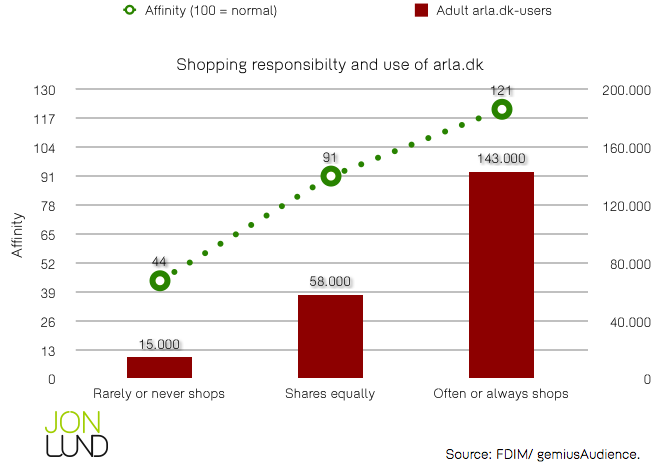 As the chart shows, two thirds of all the arla.dk surfers have the main shopping responsibility – only seven percent rarely or never shops.
In particular the recipe-service of arla.dk is popular. The site also features a kids corner, with a mix of casual games, edutainment and cooking inspiration and a forum, where 6 Arla employees blog and an extensive FAQ is being maintained.
Arla in this way solves a dilemma which many manufacturers and wholesalers face today: Either they communicate directly
with end-customers, risking to endanger their existing sales structures, or they communicate through the retail-chain, risking not to position themselves adequately in the eyes of end-customers. They do this through offering a variety of services, which adresses problems surrounding
This is done by offering af range of services which offers to solve problems encountered by the customers in areas of life related – but not directly tied – to dairy products, which are the main business of Arla. In this way Arla has established a direct communications channel, allowing Arla to present itself according to their corporate branding values, keeping the Arla
brand top of mind, and at the same time supporting the Arla retailers – Danish supermarkets.
The data stems from the Gemius/FDIM panel of 9.000 + adult Danes who've agreed to being automatically monitored when they surf the web.
Download full report

Send, download and print. Price: 345 ddk/€45,50 (ex. VAT)

"Service-driven corporate sites – the case of arla.dk" 14 pages, 6 illustrations.

To order the report, send an email to jon@jon-lund.com including your contact information with subject: "Buy Jon Lunds Arla-report", and you'll receive both the report as pdf-file and an invoice.