2010 is the year when the mobile internet finally breaks through. That's the conclusion you'll have to draw when looking at how mobiles are increasingly used to surf the web.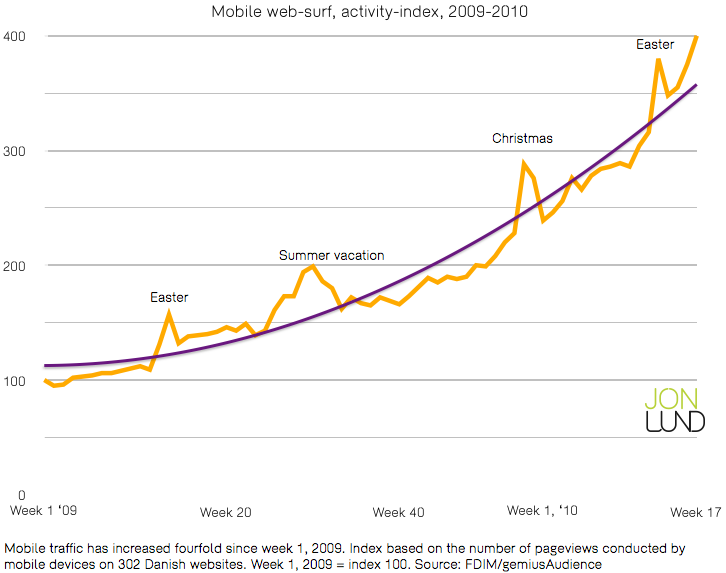 These are among my findings in my latest report "2010: Mobile web-surf breakthrough". In the report I also make it clear that the driving force of the mobile internet is the advent of touchphones. While the use of traditional Nokia and Sony Ericsson phones running Symbian stays largely the same, iPhones have more grown more than 500 per cent since January 2009. And Android-powered phones have really gathered momentum during April 2010, growing almost as fast as iPhones.
Based on available market information I estimate the number of iPhones and Androids to reach some 700.000 this year. And those users will conduct some 5-10 per cent of their total web-surf from their phones. On top of that you'll have to add app-usage (which is huge) – like eg. Facebooking! (Not to mention emailing and texting). The mobile internet is getting real. Now.
Download full report

Send, download and print. Price: 345 ddk/€45,50 (ex. VAT)

"2010: Mobile web-surf breakthrough" 13 pages, 2 illustrations.

To order the report, send an email to jon@jon-lund.com including your contact information with subject: "Buy mobile breakthrough-report", and you'll receive both the report as pdf-file and an invoice.