100.000 Danes visits the penny auction sites ziinga.com a month hoping to make a bargain. Probably the only winner is ziinga.com themselves, making profits of 4 million dkk a month.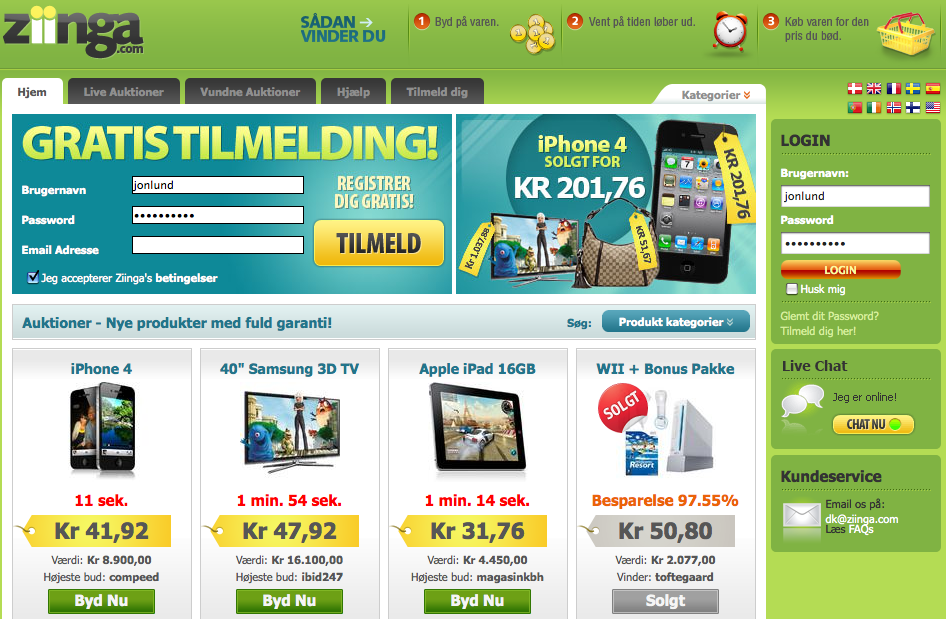 I don't mind gambling. But I do mind hustling. And that is for all I know what ziinga.com is about: a site which systematically plays down the cost, while high-lighting potential winnings.
When I looked into the ziinga.com-business I found the site to conduct some 480 "auctions" a month, generating som 5.7 million dkk in revenue – at least four millions ending up as ziinga.com profits. I also found 131.000 adult Danes to have visited ziinga.com i April 2010 – and 90.000 in May.
The trick of ziinga.com (and most other penny-auction sites for that matter) is that bidding is not free. It cost 5-6 dkk per bid. And each bid only raises the price with 0,08 dkk, resulting in a situation in which any auction requires hundreds or thousands of costly bids before ending.
I also found ziinga.com to deploy a range of mechanism to hide what it's all really about, among others:
– No mentioning of the cost of bidding – before they've had you registered and had their shot at getting you hooked
– No mentioning of shipping costs, which typically cost significantly more than the item you buy
– No mentioning that you actually bid against bidders from several other countries – not only your fellow citizens
Download full report (in Danish)

Send, download and print. Price: 345 ddk/€45,50 (ex. VAT)

"Øreauktioner – auktion, lotteri og flosset forretningsmoral. Ziinga.com-casen" 19 pages.

To order the report, send an email to jon@jon-lund.com including your contact information with subject: "Buy ziinga-report", and you'll receive both the report as pdf-file and an invoice.