Literally: moms spend twice the amount of time e-banking than does their male counterparts. And they're outnumbering the dads in the check-out lines of e-commerce sites as well.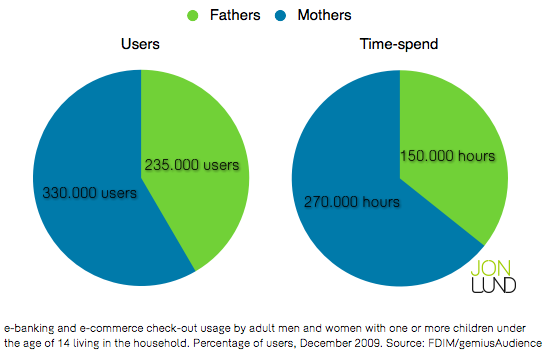 These are among the main findings in "Money and gender in Denmark: e-banking and online shopping″ – my latest report, published today. Find reference below.
If anyone should still be led to believe this whole Internet-fuzz is mostly a boys-with-pizza thing, now is the time to think over: the Internet simply solves problems, attracting the ones who need its services. And if men have ever been in charge of running the family economy in Denmark (and I believe this has been the case somewhere back in the 20th century), this is clearly not the case anymore. On the contrary: paying bills and seeing to it that the kids are well-dressed is predominantly a woman's affair, it looks like.
And it's not just about your sex. It is about the kids. Looking at the online check-out lines, you'll find more than 14 percent more women with kids living at home than women in general. Or rather – that's my hypothesis – it the changed structure of the family, propelled by the presence of kids in the household that makes the difference.
E-banking figures at the same time shows the activity of men to decrease with some 10 percent as they assume the father-role. Women stays on level when kids enter the equation, but spends more time, resulting in mothers spending 82 percent more time in the e-bank.
The report builds on data from the two leading check-out payment systems, DIBS and Paypal, and – for the e-banking part – data from the six most popular e-banks: Danske Bank, Nordea, Jyske Bank, Nykredit, Sydbank and Portalbank (powering a host of smaller Danish banks). Primarily as measured by gemiusAudience for FDIM.
Send, download and print. Price: 345 ddk/€45,50 (ex. VAT)

"Money and gender in Denmark: e-banking and online shopping". 15 pages, 9 illustrations.

To order the report, send an email to jon@jon-lund.com including your contact information with subject: "Buy Jon Lunds Money and gender in Denmark", and you'll receive both the report as pdf-file and an invoice.