In 2009 Danes spend more than 1,5 billion hours on the Internet, up almost 300 million hours from 2008, a growth of 22,9 percent. One individual site in particular stands out: Facebook accounts for half of the entire growth.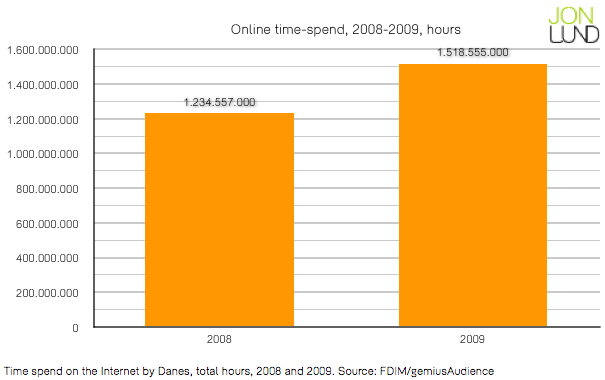 These are among the main findings in "State of the Danish Internet 2009" – my latest report, published today. Find reference below.
Dwelling on Facebook, I find Danes to have spend a total of 233,6 million hours on the social networking site in 2009 – more than 10 minutes a day for each of the 3,75 million adult Danes using the internet on an average 2009-month. (3,75 million Danes translates into a stunning 92,7 percent of the total adult population!)
Given this extreme penetration of the Internet, of course you find all kind of Danes online. The group you're least likely to find online is the +60 years olds. Of these "only" a little more than half is present on the internet in a given month. And they "only" spend three quarters of an hour browsing the web a day (compared to 1:01 hour for the adult population at large). Genderwise the split is almost equal – while from a geographic point of view you find the inhabitants of the larger Copenhagen area to be the ones most prone to spend time on the internet. The 15-19 years olds, however, are the most web-savvy of all, spending on average nearly  one and a half hour a day online.
(The findings are based on analysing putting together data from various sources, most notably the gemiusAudience survey, but also Eurostat, Statistics Denmark and the reseach-department of Danish Broadcasting Corporation (DR)).
Send, download and print. Price: 345 ddk/€45,50 (ex. VAT)

"State of the Danish Internet 2009". 13 pages, 7 illustrations.

To order the report, send an email to jon@jon-lund.com including your contact information with subject: "Buy Jon Lunds State of the Internet", and you'll receive both the report as pdf-file and an invoice.