The Apple iPad doesn't challenge one, but seven (today) distinct markets with yesterdays launch of the iPad tablet flat-screen-computer. This is one of the key findings after I've analysed the market potentials of the new fabled device. Read all about it in my new report "The seven faces of iPad. Accessing the potentials of Apples new tablet-device" (link below).
Not only net-books find themselves in a new uncomfortable situation. Also the gaming console industry (Nintendo), the e-book readers (Kindle), the GNDs (Garmin), portable media players (iPods (!)) and the smartphone-market (Androids)  are, in varying degree, under fire. The iPad may also give rise to a whole new market, professional and private-use applications, taking the promises of the iPhone app store to yet higher levels.
Why? Because the iPad manifests itself as the first true convergence-device to this day.
I also estimate the market potentials of the iPad and find find all the affected markets selling a total of two billion devices a year on a worldwide basis. Given this potential I find the iPad to be able to sell some 50 million devices by 2013, starting out with some 5 million i 2010.
Here's what I find the iPad-market to look like: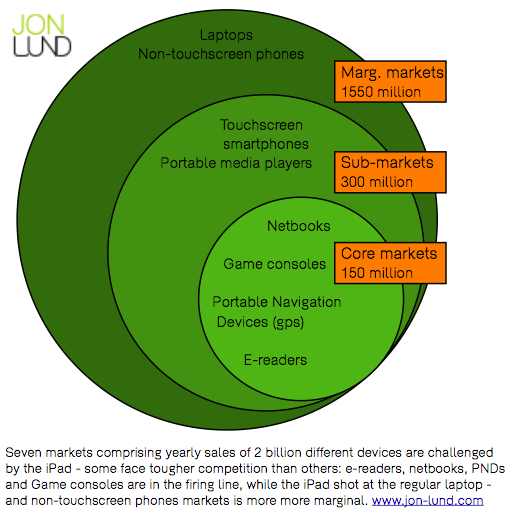 Send, download and print. Price: 345 ddk/€45,50 (ex. VAT)

"The seven faces of iPad. Assessing the potentials of Apples new tablet-device". 16 pages.

To order the report, send an email to jon@jon-lund.com including your contact information with subject: "Buy Jon Lunds The seven faces of iPad", and you'll receice both the report as pdf-file and an invoice.