Trendsmap.com is a facinating service, outlining what beeing twitted around the world. In Libya, a contry in the midst of a revolution against dictator Gaddafi, they're right now tweeing about "Tripoli", "Gaddafi" and "Feb17".
But the volume doesn't seem impressive. Only some 3-4 tweets have mentioned the trending Gaddafi for the past half hour. And three of those are actually the same tweet, only re-tweeted.  Look at this screen-dump, and try out the service yourself: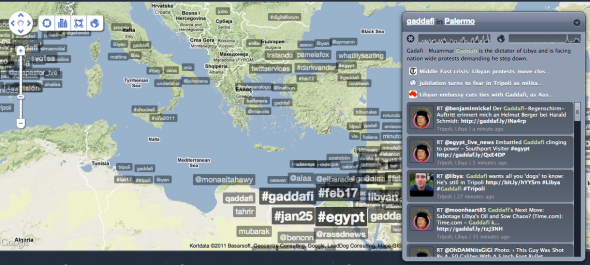 Tweets in north Africa and southern Europe. Click to enlarge.
Twitter has helped revolutions elsewhere. But apparently not so in Libya. At least not right now.
This surely reflects severe restrictions on the use of the Internet by the Gaddafi regime. Though Tunisia, Libyas right-hand neighbour seems quite as well. (As opposed to the Egyptians who seems very active). Maybe Twitter isn't that widespread in Liberia? Facebook for sure isn't.